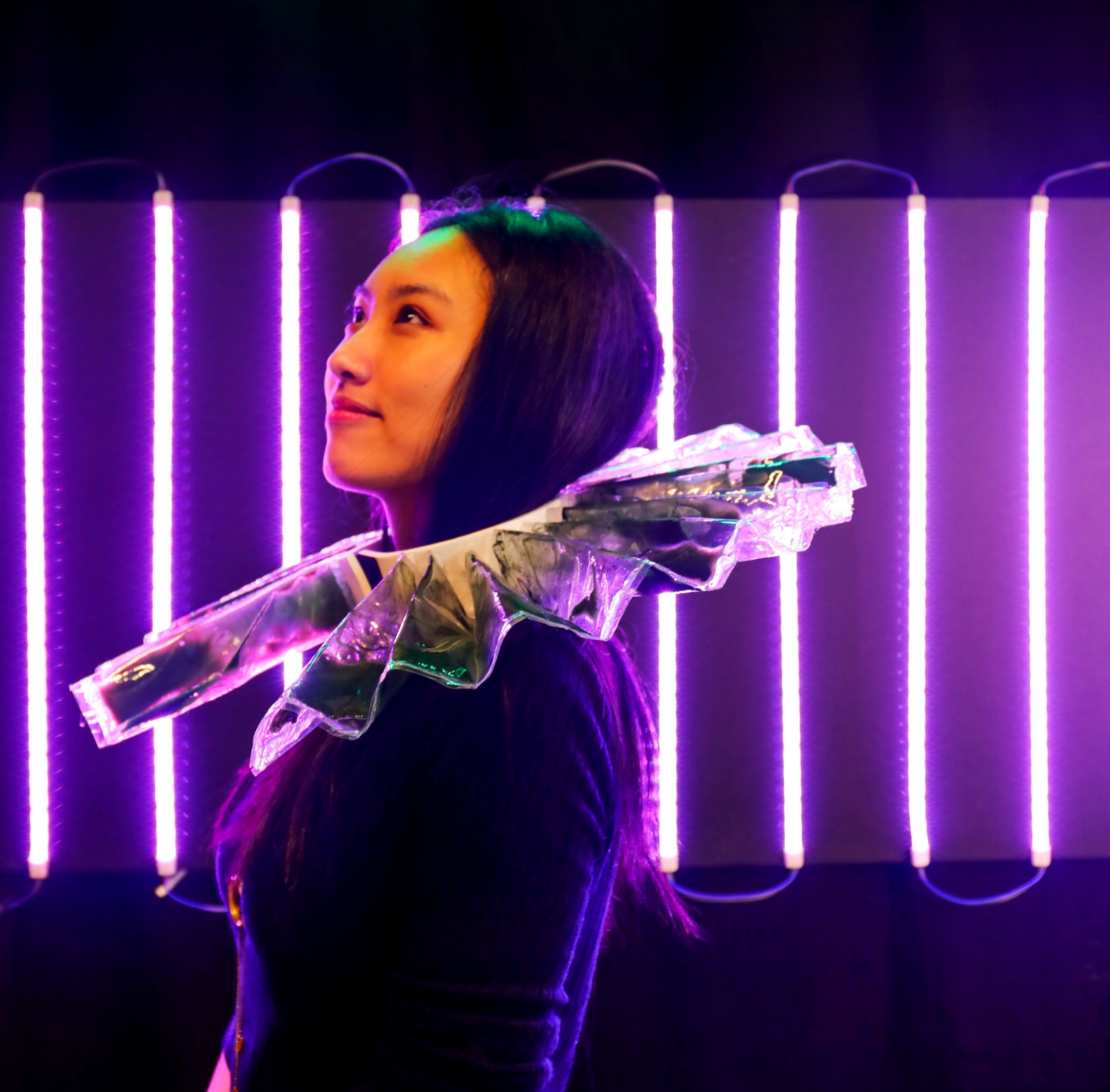 Design Futurist | Speculative Designer | Curator
Shihan Zhang is an interdisciplinary designer whose passion lies in challenging cultural stereotypes and social preconceptions through building experiences of future-present intersections.
Her works are expanding technologies' possibilities and extrapolating world conditions to address Anthropocene challenges. Through a systematic and cultural lens, her works inspire conversation and empower her audience to reflect.
She is currently an artist incubator in Gray Area Art and Technology Foundation, Exhibition Chair of PRIMER Conferences, and Design director for SF Design week award exhibitions.
Welcome collaborations and questions: shihanzhang.design@gmail.com
AWARDS
Fast Company World Changing Ideas Awards 2019, Honorable Mention - Personal Carbon Economy
Core77 Design Awards 2018, Design Concept, Runner Up - Personal Carbon Economy
San Francisco Design Week Award 2018, Bio-tech Award Winner - Symbiosis Carbon Future
A.I.R Design Competition 2018, The Center for American Architecture and Design, Second Prize - The Future of Breathing
What Design Can Do 2017, Climate Action Challenge, Nominates - The Future of Breathing
IDEA Design Award 2017, Social Impact Design Award, Finalist - Raw Factory [ Biological Nutrition Control (BNC) Manufacturing Process ]
PUBLISHES
BRACKET [on sharing] - Shared Responsibility: Learning from share economy models to design for climate change
About Place Journal- Rewilding - Skin Farming
Alumni Interview - MFA in Design: Alumni Q+A with Shihan Zhang, product designer at Vim
McKinsey Medium post - Personal Carbon Economy
Gray Area Medium - Personal Carbon Economy
EXHIBITIONS
Gray Area Showcase 2018.2 (Post-metabolic)
The AIR Symposium, The Center for American Architecture and Design, Austin, TX, USA (The Future of Breathing)
Gray Area Showcase 2018.1 (Personal Carbon Economy)
PRIMER Conference 2018 (Symbiosis Carbon Future)
San Francisco Design Week Award Exhibition 2018 (Symbiosis Carbon Future)
Foodtopia 2030, Foodino conference 2018 (Symbiosis Carbon Future)
Better Together Exhibition 2017 (The Future of Breathing)
San Francisco Design Week 2017 (The Future of Breathing)
Dutch Design Week Climate embassy 2017 (The Future of Breathing)
Primer Conference 2017 (The Future of Breathing)
Inspiration Room, Chengdu Design week 2017 (The Future of Breathing)
Juniors' pick of California College of the Arts Commencement Exhibition 2017 (The Future of Breathing)
Drawing Machine(s) Exhibition, November 2016 (Mad Green)
Expanding Field Guides Exhibition, AICAD Symposium 2016 (Parallel world)
Design Lab Nightlife, California Academy of Science, 2016 (Foodie Atelier)
TALKS
Stanford STAR Symbioses panelist
DesignTO Symposium: Unlocking the Future of Work, 2019
Gray Area Artist Salon 2018.2
Design, Foresight & the Future of Business, SF Speculative Futures, 2016
CURATING
Curator of San Francisco Design Week Award Ceremony Exhibition 2018-2019
Juror and curator of Emerging Designer Award and Exhibition - PRIMER Conference 2018-2019
Exhibition curator - PRIMER Conference 2017